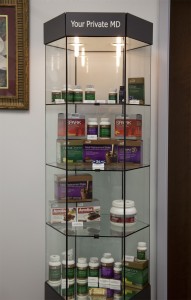 When it comes to supplements, the choices are endless. Unfortunately, not all supplements are created equal. Over the years, I have been approached by a number of companies and physicians requesting that I support or recommend a particular weight loss or nutritional product. Recommending a product to those I care for and about is a really big deal for me. If I don't truly believe in the safety and efficacy of a product, or would not use it myself, I am certainly not going to risk associating my name and reputation with it. Based on the results that I have seen in others and most importantly myself, I can honestly say that Advocare has made a tremendous difference in my health, strength, endurance, and my dress size!
Throughout the year, I host weight loss classes where my staff and  I teach weight loss techniques and feature the Advocare 24-day Weight Loss Challenge. Patients have had amazing success with our program! To begin your weight loss journey, order your 24 Day Challenge products here www.advocare.com/121118586/, or call our office for more information.
Membership to the practice is NOT required to participate.